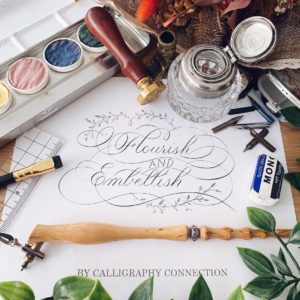 While doing calligraphy, have you thought about how your writing looks just like someone else's, or stopped to think if there is any way you can find your own character and style in your writing? Personally, I find that flourishes and embellishes have the ability to make one's calligraphy become something personal. They are attractive and give character to an otherwise ordinary piece of writing. This course will break down something seemingly complicated into palatable parts and equip you with the knowledge to add flourishes to your writing effectively.
As this is an intermediate course, participants are assumed to have some knowledge and experience with pointed pen calligraphy. If you have taken my beginner's course, this course will be a great follow-up.
Course layout:
We will first look into detail the key factors that one should keep in mind while constructing a piece of flourished writing. These pointers are the formulae to creating a balanced piece of flourished text and will be used throughout the lesson. We then examine the various places we can add flourishes. We will walk through the Capital Letters and some of their fanciful variations, followed by various kinds of flourishes. Finally, we will compose a flourished word/phrase using the ideas learned.
Materials you will receive:
dual function oblique/straight penholder | nib | walnut ink | curated course booklet including alphabet exemplar and capital letter variations | personalised gift* | practice sheets | pencil & eraser | tote bag
*Personalised gift will be a pen roll or bookmark.
Light snacks will be provided.
If you wish to have another word / someone else's name personalised, please inform upon registration.
You may bring your own holder, nib and ink.
Material list may be revised.
Duration of class: 3.5 hours
Venue: In-person classes will be held at my home studio (Hougang) / office (Kovan).
Class availability
Scheduled class: –
Private class: Please email to arrange via email or contact form.