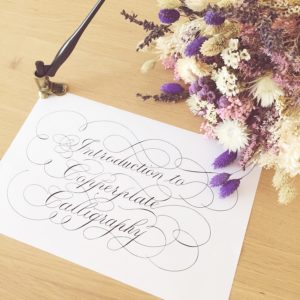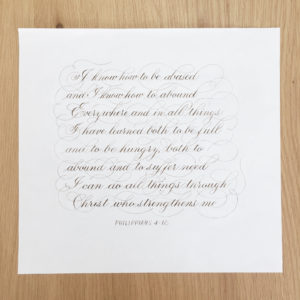 This workshop is for complete beginners and will provide everything one needs to get started with Western pointed pen calligraphy in the traditional Copperplate script. Starting your calligraphy journey with a traditional script allows one to establish strong fundamentals. The skill is versatile: one could simply use knowledge to do brush calligraphy, or even adopt a bouncier, freeform script — also known as modern calligraphy.
Course layout:
Theory & explanation of tools and terms
Drills and basic strokes
Lowercase letters
Connecting letters to form words
Intro to uppercase letters
Some flourishing tips and using colours
Materials you will receive:
dual function oblique/straight penholder | 2 flexible pointed nibs | walnut ink | curated course booklet including lower and uppercase alphabet exemplar | personalised gift* | practice sheets | tote bag
*Personalised gift will be a pen roll or bookmark.
Light snacks will be provided.
If you wish to have another word / someone else's name personalised, please inform upon registration
You may bring your own holder, nib and ink.
Material list may be revised
Venue: In-person classes will be held at my home studio (Hougang) / office (Kovan)
Duration of class: 3.5 hours
---
Class availability
Scheduled group class: Registration closed
Private class: Please email to arrange via email or contact form.
---
FAQs:
Q: Is this modern calligraphy?
A: Copperplate is a form of traditional calligraphy, in which proper rules, structures, and letterforms will be taught. Modern calligraphy may be less rigid, but its forms often stem from traditional copperplate calligraphy. It is highly recommended to start with a proper traditional script of your choice.
Q: Will I learn how to do flourishes in this course?
A: Flourishing will be covered in the intermediate course, which focuses on capital letters and flourishing.
Q: How big is a class?
A: Learning in a group makes it a fun and cosy creative experience. At the same time, I want to ensure enough personal attention is given to every participant, With that in mind, I will keep the class size of group in-person classes to a maximum of 5.
Q: Do I need prior experience to join?
A: As this workshop is curated for complete beginners, no prior experience is required. However, if you have had some experience with brush / modern calligraphy, this workshop may be able to give you a different kind of experience and skill set for your calligraphy pursuit.
Q: How do I register and confirm a place?
A: When a workshop is scheduled, a registration page with the necessary instructions will be made available. For private classes, please email to arrange.
Q: Do I need to bring anything for the workshop?
A: As all materials will be provided, including a tote bag to hold the items after the class, you do not need to bring anything. You may want to bring a pencil or pen for your own note-taking.
Q: May I organise a private session with a group?
A: Yes, you may, subject to my availability. Please email me to coordinate this.
Q: Will there be a follow-up class for intermediate and advanced learners?
A: Yes, you may join the "Flourish and Embellish" class to bring your calligraphy to the next level.
If you have any other questions, please feel free to email me
here.